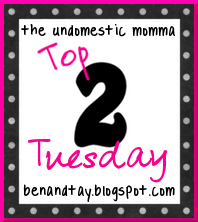 I am loving the Top 2, it really makes think!
But I have decided that for my next baby (and we are definitely having at least one more) we are keeping the name a secret. This day and age, you really can't keep the sex a secret.
But I will say that BEFORE we had Ms. Abby (Abigail)...these were our names.....
1) Girl - I wanted Tana. Said like Hannah, but with a T. I thought it was original, yet classic. Marie was the middle name no matter what. Stu said Abigail.....and since he was overseas fighting for our country, I think that I gave in a little. I had reservations, but the second I met her, I just knew she was an Abigail.
2) Boy - Hunter James. That was dead set to both of us. Both of my grandfathers are James, one of Stu's is, so that just fit. Plus my brother (James David aka. JD) was James. I love Hunter and when I was pregnant, I drove by a neighborhood called Hunter Creek and a SUV in front of me was a car that had "Hunter was here" written on the dirt of it....I thought that was a sign. But, alas it was not a boy.
*********
I am all about "classic" names. I like that people can take the risks and come up with original names.
But I have always been slightly jealous of people that have nicknames. I am Ann. I am a 80 year old librarian. Face it. I really don't think that I will have a child that does not have a "nickname".
**************
Mom,
don't
worry, I love my name!
**************
Check out my Oscar reviews below!!