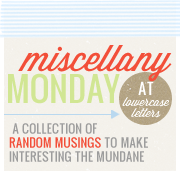 I thought I would join up with this blog as I sometimes have miscellany posts!
***************

I have been trying to walk every night. Normally, we walk around the complex in circles. Tonight, I ventured out of the apartment complex. I did not realize until I was halfway through the walk just how tough the hill was. Pushing a 40 pound stroller up a hill is NOT fun. My calves are killing me.

**************
My inspiration today was the scale this morning. I don't weigh every day, but did this morning. Saw a number I haven't seen in a
looooong
time. But a good one!! 2 pounds down, 10 more to go ;)
**********
Abby was an angel on the walk. She is all about colors right now. She told me the color of every car we passed.
**********
After we got home, I started dinner and it was on.

This was her reaction to getting a pink cup instead of a yellow one. Devastation.
***********
I just finished this book.
I don't read the Pioneer Woman's blog, but this book was so good! She has a great sense of humor and it is such a sweet love story. I highly recommend it.
*************
I need new books. I ordered a few on the Nook, but they aren't released yet!